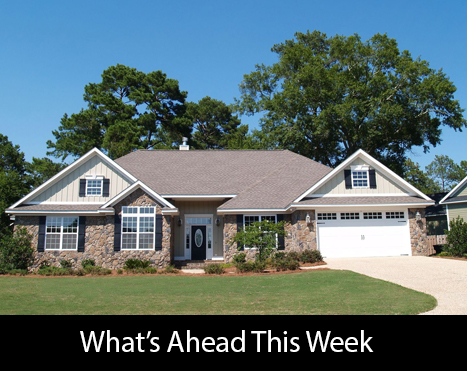 Last week's economic news included readings on new home sales, construction spending, and housing starts. Data on building permits was released along with Labor Department reports on public and private-sector jobs and the national unemployment rate. Weekly readings on mortgage rates and new jobless claims were also released.
Construction Spending Slows as New Home Sales Rise in December
Commerce Department data for December indicated less construction spending than for November. Construction spending dipped by -o.60 percent as compared to analyst expectations of a negative reading of -0.30 percent. Construction spending grew by 0.90 percent in November.
Lower cash outlays for winter months are typical; severe winter weather likely slowed construction activity more than usual. Any downturn in building activity pressures housing markets that continue to struggle with short supplies of available homes and high buyer demand.
Sales of new homes rose in December; the Commerce Department reported 621,000 sales of new homes. Analysts estimated 600,000 sales based on November's reading of 599,000 sales of newly-built homes. December's reading was 3.70 percent higher than In November and was 7.00 percent lower year-over-year.
Housing Starts, Building Permits Issued Rise in January
Housing starts increased in January with 1.230 million starts annually, which was an 18.60 percent increase from December's downwardly revised reading of 1.037million starts. 1.215million starts were expected. The revision of December's reading contributed to the jump in January housing starts. Single-family housing starts rose 25 percent at a pace of 926,000 starts reported.
Building permits rose by 1.40 percent in January to 1,345 million permits issued as compared to December's reading of 1.326 million permits issued.
Mortgage Rates, New Jobless Claims
Freddie Mac reported higher average mortgage rates last week with rates for fixed-rate mortgages rising six basis points and the average rate for 5/1 adjustable rate mortgages rose three basis points. 30-year fixed mortgage rates averaged 4.41 percent; 15-year fixed mortgage rates averaged 3.83 percent and mortgage rates for 5/1 adjustable rate mortgages averaged 3.87 percent.
Discount points averaged 0.50 percent for 30-year fixed rate mortgages, 0.40 percent for 15-year fixed rate mortgages and 0.30 percent for 5/1 adjustable rate mortgages.
Initial jobless claims were lower last week with 223,000 claims filed; analysts expected 225,000 new claims based on the prior week's reading of 226,000 first-time claims filed.
Labor Reports Show Slower Jobs Growth
ADP reported the lowest increase in private-sector jobs since November; February's reading of 183,000 private sector jobs added reflected declines in jobs within the travel and retail sectors. The Commerce Department reported only 20,000 public and private-sector jobs added for February; this was the lowest reading in 17 months. Analysts cited severe winter weather and seasonal anomalies. Construction and shipping sectors were hardest hit in February.
National unemployment dropped from 4.00 percent in January to 3.80 percent in February.
What's Ahead
This week's scheduled economic news includes readings on retail sales, inflation and the latest reading on construction spending. Lingering effects of the government shutdown continues to impact data released from the Federal government. Weekly readings on mortgage rates and new jobless claims will also be released.